"And he said, My presence shall go with thee, and I will give thee rest."

God's Word is so full of promises of His faithfulness to us and that He will never leave us alone and will walk with us through whatever it is He leads us into. We memorize the promises, we quote them to everyone else who is having a problem, and somewhere, deep within our hearts we know that we believe them.

Everytime I hear the hymn that is playing, Great is Thy Faithfulness, my soul wells up in the utmost belief in those words that He never changes, no matter what. So why is it my stomach turned into a million knots when I got THE phone call yesterday?????

In my heart of hearts, I knew it wouldn't be good news. I just didn't want it confirmed, I guess. Yet, even as I listened to this sweet, caring lady tell me about the radiologist's report and the next step in this journey, I knew that the Lord was there with me with the promised strength and fortitude I needed to carry on the conversation and get the information I needed written down.

When I hung up the phone, a strange calm came over me, and I knew that even through the worst of storms, God would be walking with me. At that moment, I could hear the worst thunder, the lightening was cracking around us, it was raining sooooooo hard, it was dark outside and the lights were dimming on and off. But I was dry and safe and protected in my home. And so I also knew that as long as I kept my eyes on Him, there would be no storm that could come over me and defeat me until it was time for Him to call me home. His Faithfulness would carry me through.


Naomi from Naomi's Notions
posted this picture in our Ebay group a few days ago, and I've gone back and looked at it so many times during the past few days. Somehow, to me it is a picture and constant reminder that God DOES keep His promises and will always be faithful to us!
The report???? "Highly suggestive of malignancy. Large mass with pattern of spidering throughout breast tissue, causing deep dimpling and open lesion. Significant changes in armpit."
So this is all I know right now. Tuesday, July 1st, I have a consultation appointment with a surgeon to go over all this and set up a scheduling for biopsy, etc., for the final definitive diagnosis.
Thank you so much for your prayers -- all of you! Your comments, emails, etc., have meant all the world to me, have strengthened me, and made me more aware than ever that God sends His people to strengthen us and lift us up when we are in need.
I never thought I would have a blog. I never thought I'd have anything to say. I never thought I would have breast cancer. And I surely never thought there were so many Godly bloggers out there that would rush to my side and walk with me through this valley in my life. All I can say is, THANK YOU!!!!!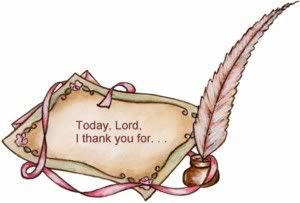 For these things, I thank you, Lord:
50. My sister, who constantly holds me up and encourages me!
51. Tree frogs, whipporwills and other creatures who have learned to sing in the darkness of the night!
52. Fresh tomatoes from my sister's garden.
53. God faithfulness through all these years.
54. Friends who pray!
55. Long awaited, refreshing rains!
--------