It's amazing how a one-hour doctor's visit can change the course of your life forever! Even though we know something is wrong and that we should do something about it, we try to act normal, do normal things, and cause our days and weeks (and even years!) to go on as we think "normal" should be.
In the back of my mind, I always knew that "what is -- IS!" And I don't know how many times I have begged, pleaded, pushed, yelled at, and taken someone to have something checked out. Some things just don't go away. And when you see these things getting worse, you just know. . . .
And so, finally, I went. The pain was getting worse, the lump was getting worse, the sore was open and not healing. . . . . ya think I need a Dr????
The news was not good, as I expected. I could have told the Dr. that. He did the breast exam, asked a lot of questions, then told me that he was 99% sure it was advanced breast cancer. There is something about knowing this in your heart beforehand. . . . . but to hear it outloud is a whole 'nuther ballgame, believe me. And you all of a sudden begin to visualize that I have reached the turn off on the highway of life onto the short road that leads to heaven's gates!!!! At least, that's how it felt sitting on that table with my little scrap of a paper drape across my front!
News travels so fast, and I thank each and every one of you who have been praying for me during the past few days. I DO NOT have a firm diagnosis yet -- only a Dr. looking, squishing, prodding, poking, squeezing, etc. Things are being lined up for next week to start the process of testing, etc.
I wasn't sure I wanted to blog about this new detour in my life. I don't like to cause sadness, worry, anxiousness, etc., in other peoples' lives. On the other hand, not to be honest and open and ask for prayer when needed would only cause this blog to be fake, surface, and definitely NOT me!
I have always trusted the Lord before, and have always trusted Him for the needs of those that I love. I have watched Him gently lead my sister and my roommate down this road in the past few years, so why would I not trust Him for myself? I firmly believe that He knows the plans that He has for me, has carefully mapped it all out, and that when all is said and done, I will be singing, "Jesus Led Me All the Way!"
I don't know what is between point A and point B. I'm not even sure I've reached point A yet. But I sure would appreciate all your prayers as I begin the decision making process of it all. I've come to know and love so many of you through our blogs, and I definitely believe now that part of the purpose of all this is for reasons like this -- so that we can all pray for one another and bear each others' burdens.
Please join me as I begin my journey of thanks to God for all He has given me. I plan on ending all my posts with my "thankful" list -- perhaps you would like to do the same!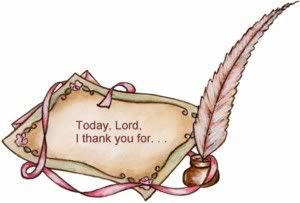 For these things, I thank you, Lord:
1. Birds that sing, knowing that God will provide.
2. Music that soothes my soul.
3. Coffee that opens my eyes.
4. Buster's slobbery morning kisses.
5. Over-the-fence visits with my sister.
6. My blogging and internet friends.
7. God's never-failing love.