I am from books, from old sappy novels like Elsie Dinsmore that make you cry, and from soft, heart-searching music.

I am from the old style home with big, wide staircases, wrap around porches, railings and slate sidewalks.

I am from the forsythias, the pussy willows and lilacs.

I am from Sintra Klas and oli bollens, and singing hymns around the piano, from Anthonie and Aleida, and Sterenborgs and Eelmans.

I am from the weather watchers, the campers, the nurses, and the typists, the oil burner repairmen, the bakers and the cooks. I am from sea captains and fine keepers of the home.

I am from being afraid of what was hiding in dark closets. I am from staying away from old men in the park, not accepting candy from "bums" and not accepting rides from strangers.

I am from jumpropes and double-dutch, hopscotch and handmade beanbags, swings and seesaws, sandboxes and tricycles.

I am from knowing God loves me, died for me, and that I will be with Him, my Mom and Dad someday. I am from being forgiven, loved. I am from a God of second chances.

I'm from New Jersey, Holland - Texel and Amsterdam, boterkoek and chocolate chip cookies.

I am from the Dad who turned over outhouses as a child, pushed the peddles on the old Dutch pipe organ for his blind uncle as he played. I am from the dad who delivered coal, fixed oil burners, and fixed my bike. I am from the Mother who could knit, crochet, tat and sew anything without a pattern or a chart, and the stepmom who gave every ounce of her being to make my father happy.

I am old stuff, like linens and handmade quilts. I am old kitchen utensils, buttermolds, and rolling pins. I am old hymbooks, old recipes, old lace, and old pictures.

I am from my heart, my soul, my feelings, my prayers. I am from words that need to be written, hugs that need to be given, prayers that need to be prayed and tears that need to be shed.

I am from the Poet's Heart and I love to write and His Songs!
----------------
When I read Deb's version of "Where I am From" on another Blog, Manitoba Gardens, I just knew I had to join Deb and write my own. There is an invite there for all of you to do the same.
Click Here To Visit Deb's Blog and get the details about doing your own Where I Am From
---------------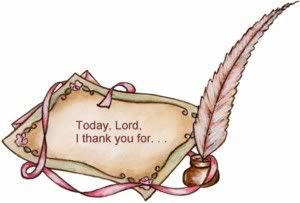 For these things, I thank you, Lord:
28. A warm, loving hug from a neighbor and friend. It didn't need words to tell me her heart!
29. The smell of beans cooking on the stove!
30. A surprise gift in the mail that smelled of lavender -- so wonderful!!!!!
31. A beautiful card with promises of prayer and love.
32. The treat of bacon for breakfast!
--------