It's Moments Like These. . .
They don't come very often, you know,
But when they do,
I wish I could share them with you!

It's moments like these. . .
When I hear God say,
"I care. . .
I'm there. . .
I hear your prayer."
It's then that I know
That He is bigger than I am,
Bigger than my problem,
Bigger than all I can imagine
Could ever be wrong.

And He makes it all right. . .
And He holds me so tight. . .

It's moments like these. . .
They don't come very often, you know,
But the could. . .
And they should. . .
And they would. . .
If only we trust,
And pray,
And listen more often.
For He's always there,
And always cares,
And always answers our prayers.

It's moments like these
He longs to share
With me. . .
And with you!
--Cora
-----
During the past day or two, I've had so many wonderful moments when I have read all of your precious comments and promises of prayer, and encouraging words. How can I ever thank you all????? It
IS
moments like these that are written forever on my heart and I will always be eternally grateful to you and to the Lord for the friends He has sent my way!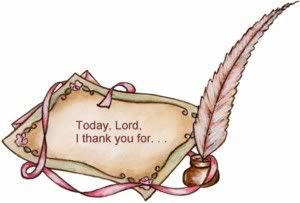 For these things, I thank you, Lord:
8. Friends who care and pray.
9. Good bargains at the grocery store and strength to carry them in!
10. Great carrot zuchinni bread with coffee!
11. A cardinal vine that grew and bloomed and graced my fence despite my neglect!
12. A rabbit sitting on my porch!
13. A Whippoorwill who sings through the night, knowing the morning always comes!