By now, you would think I had learned my lesson. If you have been a follower of my blog, you will know that I have NOT YET LEARNED to follow the directions as they are given in all of your posts.

I messed up the laundry soap big time!

And here I am again, but I'm really laughing hard at myself.

Lea of Farmhouse Blessings posted a wonderful recipe for a cleaning scrub. I had heard about this before, so decided to make some.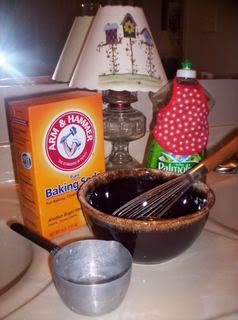 But NOOOOOOOOOO! I did NOT print out the proportions first, so I just got my big old bowl out and put about 3/4 of a bottle of dish detergent in there, and then started to add the baking soda. I added one whole box. Mixed that up really well, but it was like soup! Went back to Lea's post and it said it's supposed to be like icing. So. . . . . . I added another box. And another. . . . . .

Needless to say, I have enough scrub stuff to last through eternity.

And believe me, it works! My stove is shining, my counters look great, and I even scrubbed down those awful cookie sheets that I sprayed with nonstick ---- you know how burnt and brown they get????? I just couldn't throw them away, so I scrubbed with this scrub, and it IS coming off!!!!

I'm on a mission here. Bathroom is next!

Thank you, Lea! I just love your concoctions!!!!!!

---------------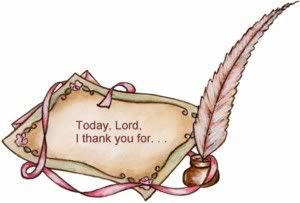 For these things, I thank you, Lord:
33. Lots of new "softscrub" to clean with!
34. Fresh, clean sheets for my bed!
35. Baby cardinals being fed outside my window!
31. Fresh tomatoes from the garden.
32. God's never failing love!
33. Deena's good news about her cancer treatments! Thank you Lord for her courage and faith!
--------